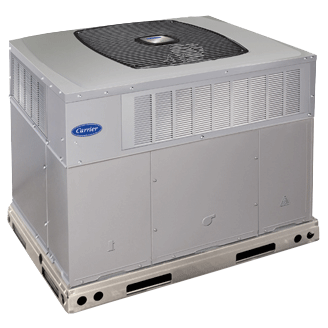 Infinity® 15 Packaged Heat Pump System
HIGH-EFFICIENCY SYSTEM FOR EXCEPTIONAL COOLING AND HEATING COMFORT
Models: 50XT-A






The Infinity heat pump, managed by the Infinity control, cools all summer then converts to heating mode automatically in cooler months.
A two-stage compressor and variable-speed blower let's you enjoy exceptional comfort features like Ideal Humidity® System technology for superior summer dehumidification.
This efficient heat pump system utilizes energy-saving, low-stage compression up to 80% of time to create more even temperatures, quieter operation and improved air flow.
Key Features






STANDARD FEATURES
Up to 15.5 SEER

8.0 HSPF

Sound: as low as 75 decibels1 in cooling mode

Ideal Humidity System® technology for superior summer dehumidification

Uses Infinity control for precise comfort and temperature control

Two-stage compressor operation for excellent comfort and efficiency

Variable-speed blower for ultimate comfort and quiet operation

Thermostatic Expansion Valve (TXV) refrigeration management maintains proper flow to help insure reliable, efficient operation

Fully insulated cabinet

Air purifier, humidifier and ventilator compatible

Non-ozone depleting Puron® refrigerant

Filter drier system protection from moisture and contaminants

Ideal Defrost heating operation with Infinity control

Envirotuff™ rust-proof base with integrated drain

10-year parts limited warranty2
OPTIONAL FEATURES
Electrical-resistance heating packages available

ArmorCoat™ coil tin-plating for enhanced corrosion resistance

Optional labor warranty available3
1 Quietest size within each model group during most common cooling operation condition.
2 To the original owner, when product is used in an owner-occupied residence, a 10-year parts limited warranty upon timely registration of your new equipment. Warranty period is 5 years if not registered within 90 days. Jurisdictions where warranty benefits cannot be conditioned on registration will automatically receive a 10-year parts limited warranty. See warranty certificate for complete details.
3 Ask your Carrier® dealer for details.
« Back to Products